On My Mind...
Longer days, sunshine, vegetable seeds, dungeons & dragons, disc golf, power tools, gold panning, and always phat bass...
Current Playing...
Clash of Clans
▪
Icewind Dale II
▪
Call of Cthulhu: The Wasted Land
What I'm Listening To...
Hipadelicfunkhop random shuffle
Watching...
·

Silicone Valley

·

Game of Thrones

·

Yukon Gold
Favourite Sites...
Recent Projects...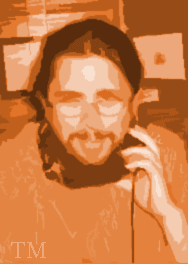 ·······················

get in touch with me
"We live in an insane society that believes it has a right to patrol even our consciousness, not only to tell us how to behave out there in public, but to tell us actually what to think and what to experience..." ~ Graham Hancock
Who, What, Where, Why...
As you may have guessed, this web site belongs to Trevor McCartney... This is my own faceSpace. I've been carving my own netspaces since the very early days, before people knew what 'online' was. I got my start building things like BBSs and Gopher sites, then along came the mighty World Wide Web. For me, constructing webspaces has become a passion, it's like playing with digital lego, but so much more connected. I believe the world is changing and the internet has ushered in a new age of global consciousness. Physical location no longer matters as we stake our claims in the digital frontier, all connected instantaneously through an infinite sea of cyberspace...
My Institutional Cred...
After studying consciousness and obtaining an honours BA in Psychology from Brock University, I enrolled in the Interactive Multimedia post grad program at Niagara College. Since graduation I've worked for a number of tech shops where I honed the crafts of building websites and applications. Some of the companies I have worked for include: Lavalife, Grey Interactive, Corporate Communications Interactive (CCI), and Best Software. At present I am an independent contractor freelancing for my own new-media company, Array Interactive established in 2000.
Random Odds & Ends...